Everyone can Vote by Absentee Ballot in NC - No excuse required
---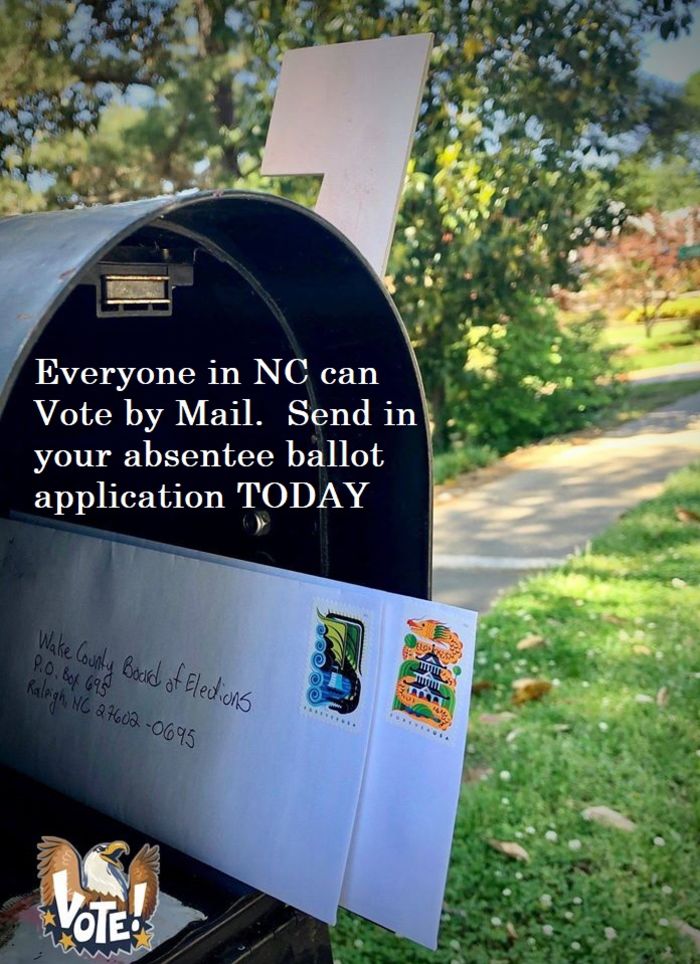 Dr. Phil Stover would like for every voter in NC to be safe in November. He recommends we all vote by absentee ballot (Vote by Mail).
Keep yourself safe in the pandemic
Avoid lines at the polls
Circumvent Republican attempts at voter suppression
You can request an Absentee Ballot TODAY (do it!)
Voting by Absentee Ballot is easy to do.
Get an absentee ballot application form, fill it out, and send it in.
At election time, you will receive a ballot AND a special envelope
Fill out the ballot and sign it in the presence of one witness
You and the witness sign the envelope
Send in your ballot
You are done!
Mail your ballot (with all signatures) by October 28 so that it arrives at your Board of Elections on time.
Options:
You can be a witness to your witness. Invite your friends and have a voting party! (But use social distancing - be safe)
You can use a notary as your witness. They CANNOT charge you for the service.
You can avoid US mail: bring your ballot in its envelope to a one-stop (early) voting site during the early voting period.
You are not required to use the absentee ballot. You can choose to vote at the polls instead.
Call your local Board of Elections to get an Absentee Ballot application form OR print your own (see link below).
Local Boards of Elections:
FRANKLIN COUNTY
PO BOX 180
LOUISBURG, NC 27549
(919) 496-3898
mchavis@franklincountync.us
NASH COUNTY
PO BOX 305
NASHVILLE, NC 27856
(252) 459-1350
absentee@nashcountyboe.com
Absentee Ballot information from the NC Board of Elections
Highly detailed instructions for using an absentee ballot
PRINT YOUR OWN Absentee ballot request form - Download the pdf
Vote by Mail information from the NC Democratic Party
Check to see if you are a registered voter
Get full information on local and state candidates
If we all request absentee ballots now, the Boards of Elections will find it easier to handle the load. So, send in your request NOW. Don't give anyone an excuse to block us from voting by mail.
This will be the election of a lifetime, as you all know. So make sure you vote, and make sure EVERYONE YOU KNOW votes.
We need every voter engaged in November!